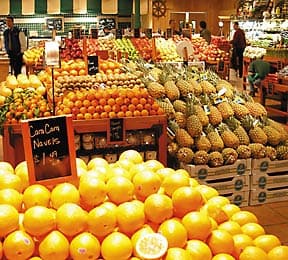 Whenever possible, shop on the day you are planning to cook, and buy the freshest ingredients.
Steer clear of buying too much meat or produce at the grocery store. It is fresher to buy from the local butcher shop or farmers' market vendor.
At the farmers' market, buy the items that don't need to be refrigerated first, and then go back for produce and fish.
Get to know the farmers' market vendors. (Insider tip: I email our local fish purveyor every week, and he tells me the day before what his catches are. I'll say, "Hold four pieces of cobia for me." That way, he has it in a cooler ready to go and I don't have to wait in line. I always bring a cold pack to the market, too.)
Never go to the grocery store hungry. Keep a granola bar in your purse if you need a quick snack.
Buy peanut butter, cereal and other pre-packaged staples at stores like Target; it will save you a bundle.
If you need to plan menus for the week, take advantage of bulk sales. If you can get a stockpile of on-sale canned tomatoes, for example, go for it.