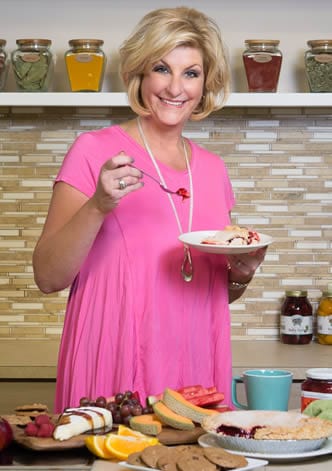 An internationally acclaimed chef, writer, TV personality, PR pro and all-around culinary Renaissance woman, Judi Gallagher is hard to miss (and not just because she is 6'2")! It is Judi's contagious laugh, her sense of humor, and her insistence on feeding everyone delicious food that make her unforgettable.
Whether she is cooking gourmet meals as ABC 7's culinary director on the daily "Chef Judi's Dish" show; running the thriving public relations firm Judi Gallagher & Associates; teaching courses at the University of South Florida's College of Hospitality and Technology Leadership; writing and editing for six print publications; or hosting demos with chefs throughout the world, Judi is doing what she loves, every minute.
Judi has enjoyed 30-plus years of successful ownership, management and consulting experience in the food service industry. She shares her expertise by consulting for restaurants and hospitality projects throughout Southwest Florida and the nation. Her forte is providing innovative public relations and strategic planning. Sarasota Herald-Tribune reporter Marjorie North dubbed Judi "the marketing guru of Southwest Florida," but if you ask Judi, she is simply a born people person whose love of eating and connecting with friends brought her to the career (and life) she adores.
"Food is my work, but I wouldn't call it work because it's my passion, my hobby and my love," Judi says. "I've just figured out a way to do it as much possible."
And it wasn't always so glamorous. Judi's journey in the restaurant industry started with many 90-hour workweeks and sleep-deprived nights. She often says it was those years of gruntwork, when she was opening her own restaurants and dessert company in New England, that made her humble and grounded. Whenever she is dining at a five-star Zagat-rated restaurant, she never forgets those years of eating Rice Krispies while mopping the commercial kitchen floor.
"Never forget from where you came," Judi says. "There's a saying in the restaurant business that you're only as good as your last meal. And I'm only as good as my last blog, my last show, or the last meal I cooked for my family. I don't take anything for granted anymore, and that makes for joy."
An honors graduate of the culinary arts program at Johnson & Wales College, Judi opened her first restaurant in 1983 (Main Street Café) just outside Boston, Mass. Her second venture, BJ's in the Park, followed in 1987. Two years later, she pioneered the reputable company, Just Desserts, which she later sold in 1995 shortly before relocating to Florida.
Judi received the 2008 "She Knows Where She's Going" Award from Girls, Inc. for her business success and philanthropic efforts. She is the contributing food and wine editor for Sarasota Magazine and the co-publisher/creative director of mycookingmagazine.com, also known as Flavors & More.
Judi has rubbed shoulders with chefs Jacques Pepin, Roy Yamaguchi and Martin Yan, as well as restaurant entrepreneur Johnny Carrabba, entertaining specialist Colin Cowie, and vintners Leonardo Frescobaldi, Salvatore Ferragamo and Margrit Mondavi.
She co-authored the Chef du Jour Cookbook (15th anniversary edition), and wrote The Art of Schmooze! Effective Strategies for the Hospitality Industry. Stories about Judi have been featured in notable lifestyle publications such as Cottage Style Magazine and Coastal Living Magazine. Judi Gallagher & Associates, which is now in its 11th year, continues to represent some of the nation's most lauded restaurants. Judi gives keynote presentations at corporate events on topics such as "The Art of the Handwritten Recipe" and "The Art of the Shmooze."
The next time you see pumpkin cream cheese Napoleon with smashed ginger sugar, or butternut squash bisque with pancetta croutons on a restaurant menu, it might just be one of Chef Judi's original recipes!
"I have a true passion for representing businesses and the hospitality industry. I've always said you can't taste a press release and the aroma doesn't come through the computer," Judi says. "I want people to have the full experience with me. That happens when you look somebody in the eyes, break bread and open up a great bottle of wine together."
The Early Days
Judi often jokes that her first entrepreneurial venture started with an Easy-Bake Oven and a batch of chocolate cakes. Growing up in New England, she remembers making goodies for her neighbors (the Johnsons, the Calhouns and the Swallows) and reveling in the looks on their faces when they bit into her homemade oatmeal raisin cookies.
"When I rang the doorbell and brought them plates of baked goods, it made everybody happy, and that made me happy," Judi says. "I loved the joy food brought people."
She hosted her first dinner party in fifth grade and still remembers the menu: Chicken with corn flakes, baked stuffed potatoes, a salad with Russian dressing, and Pepperidge Farm apple turnovers for dessert! Not bad for an elementary schooler.
"I've always loved waiting on people," Judi says. "When it comes to food, there's no greater pleasure than serving someone and standing back and watching them experience that moment of deliciousness."
As a young girl, Judi's grandmother was her kitchen mentor. She was one of those women who made three different soups every day and never owned a can of anything, Judi recalls.
"I grew up around food, all the time," Judi says. "We ate breakfast and then immediately said, 'What's for lunch?'"
That hasn't changed much. Nowadays, Judi delights in sharing meals with the loves of her life: her husband of 16 years, Paul, and her son, Eric. Her dogs, Norman and R.J., sneak a few bites here and there, too.
Judi is always looking for the next great dish, the next big restaurant, and the next scrumptious flavor.
"Every single bite is important to me," Judi says.
…in food, and in life.
Judi can be reached at judi@judigallagher.com. Sign up for her monthly online magazine at www.mycookingmagazine.com. For more cooking tips and recipes, visit www.judigallagher.com.